Pepperl+Fuchs provides solutions specifically designed for Yokogawa's ProSafe-RS safety instrumented systems (SIS).
Pepperl+Fuchs offers two different customized H-System isolated barrier (HIC & HID) platforms for the Yokogawa ProSafe-RS. The customized termination board (HICTB …) connects via a system cable to the respective Yokogawa IO-Cards. The customized Intrinsically Safe BasePlate (ISBP) hosts the new Yokogawa N-IO-Cards on the same board.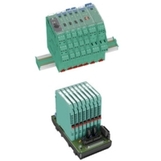 Intrinsic safety barriers are the building block of Pepperl+Fuchs' product portfolio. We offer the widest selection of components for protection of electrical signals located in hazardous areas. Our portfolio consists of isolated barriers for DIN rail mounting (K-System) and isolated barriers that are designed to be mounted on termination boards (H-System).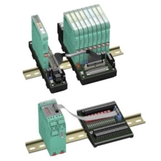 HART interface solutions from Pepperl+Fuchs consist of two HART multiplexer systems for multiple signal loops and a HART loop converter for single loop applications. The multiplexer is used to connect HART field devices to the DCS or SIS. At the heart of HART interface solution (HIS), the HART Multiplexer acts like a gateway device, routing communications between the maintenance workstation PC and the HART field devices.