Segment Coupler 3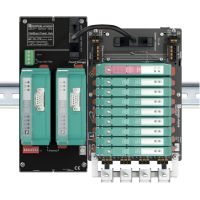 The FieldConnex® Segment Coupler 3 for PROFIBUS DP/PA is the right system to protect and integrate field device data into Yokogawa's CENTUM ALP121.
Segment couplers are configuration free and transparent: The segment coupler will "display" all devices connected to the PA network as if they were DP field devices. The communication speed on the PA side is independent of the DP side. All PA devices are configured on Master Class I and Class II as DP instrumentation. PA devices only "see" the PA master of the segment coupler, which simulates the DP Master.
Power Hubs
The PROFIBUS Power Hub is a modular, motherboard-based power supply system for two or four PROFIBUS PA segments. It consists of one or two motherboards and various plug-in modules for power supply to the fieldbus segment and a transparent coupler to PROFIBUS DP.
Our solutions include a compact PROFIBUS Power Hub and Segment Coupler (KT-MB-GTB-2PS) for two simplex High-Power Trunk segments.
For the PROFIBUS Power Hub Gateway Module (HD2-GTR-4PA), we also offer motherboard solutions for one simplex (MB-FB-GT) or two redundant (MB-FB-GTR) modules for four segments. These can be combined with a Compact Fieldbus Power Hub for four simplex (MBHC-FB-4.HSC*) or four redundant (MBHC-FB-4R.HSC*) segments.
The motherboards function as mounting plate and wiring interface, and provide the following selectable attributes:
Single or redundant power supply modules per segment
Single or redundant gateway modules
Screw or spring terminals with retaining screws
Optional grounding bar